One of my very favorite poets is Sylvia Plath and my favorite poem is Metaphors - the last line especially: boarded the train there's no getting off.
The poem is about pregnancy - no, I'm not pregnant - and that last line reflects how I've felt ever since becoming a mother. I've boarded the mommy train and there's no getting off. There's not even a chance of it slowing down. It just keeps going and going.
I'm looking out the window and the world is whizzing by. The Boy is 6 1/2 now - where did the time go? Its going so quickly. I'd like it to slow down just a little.
It won't. The train just goes faster and faster.
The baby fat is gone, the fat bands around his wrists and ankles are gone. His baby teeth are starting to fall out. He looks less and less like a baby. He's one of the big kids. He wants to do things on his own. We still walk hand in hand, but the day will come when he'll want to let go.
He barely fits in my lap.
And so he sits beside me on the train.
One day, he'll be old enough to jump the train. And board a train of his own. Maybe our trains will go in the same direction. Maybe it won't.
Will it be a successful journey? I have no idea - but so far, so good.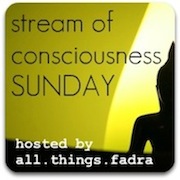 This is my (2nd) 5 minute Stream of Consciousness Sunday post. It's five minutes of your time and a brain dump. Go ahead, give it a whirl. Here are the rules…
Set a timer and write for 5 minutes.

Write an intro to the post if you want but don't edit the post. No proofreading or spellchecking. This is writing in the raw.

Publish it somewhere. Anywhere. The back door to your blog if you want. But make it accessible.

Add the Stream of Consciousness Sunday badge to your post.

Link up your post

HERE

.

Visit your fellow bloggers and show some love.